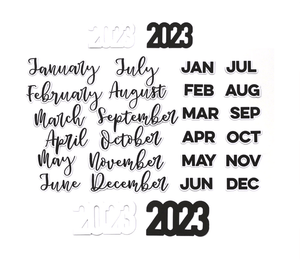 Elles Studio - 2023 Month Die Cuts
$9.95

$9.95

These are great for adding a special touch to your layouts! You can even slip them over photos in your photo albums or add them to mini albums and more!

There are 28 die cuts in this set, sized to fit in your 3 x 4 and 4 x 6 inch pockets. The largest September in script measures 4.68 x 1.75 inches.

---
---
---
We Also Recommend
---
_learnq.push(['track', 'Viewed Product', item]); _learnq.push(['trackViewedItem', { Title: item.Name, ItemId: item.ProductID, Categories: item.Categories, ImageUrl: item.ImageURL, Url: item.URL, Metadata: { Brand: item.Brand, Price: item.Price, CompareAtPrice: item.CompareAtPrice } }]);