News
Posted by Olga Day on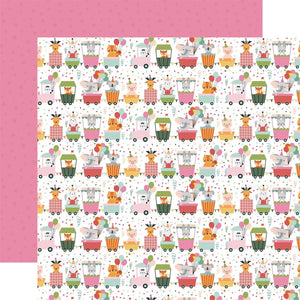 Hey Scrappy friends,, Scrapbook paper is an essential element of any scrapbooker's toolkit. It is the foundation upon which all other elements of your scrapbook are built. Whether you are an experienced scrapbooker or just getting started with scrapbooking, the right scrapbook paper can make all the difference to the final outcome of your project. In this article, we will explore the different types of scrapbook papers that are available, and how to choose the right paper for your project. The first thing to consider when choosing scrapbook paper is the type of paper. There are several different types of...
Posted by Olga Day on
  Hey Scrappy friends, Creating a mini album using the We R Memory Keepers Mini Cinch Machine is a fun and easy way to document your memories and special moments. In this blog post, we will walk you through the steps to make your own mini album using the Mini Cinch Machine. Step 1: Gather Your Supplies Before you begin, you will need to gather all of the supplies that you will need for your mini album. This includes the We R Memory Keepers Mini Cinch Machine, mini album covers, patterned paper, cardstock, embellishments, and any other materials that you...
Posted by Olga Day on
Hi Scrappy Friends, Using clear stamps in your Project Life pages can add a fun and unique touch to your scrapbooking. Elle's Studio clear stamps are a great option for those looking to add some variety to their pages. In this blog post, we'll go over some tips and tricks for using Elle's Studio clear stamps in your Project Life pages. First, it's important to choose the right ink for your clear stamps. Elle's Studio recommends using a permanent ink pad for their clear stamps, as this will ensure that the image stays put and doesn't smudge or smear. Some...
Posted by Olga Day on
Here at Sassy Scrappers we often get asked about what tools are required when starting a scrapbook album. "What do i need to get started??" So we decided to put together a quick basic list for you.. We hope this helps... What is a scrapbooking album? A scrapbooking album is a collection of memorable photos that also have stories behind the photos describing the importance of that specific photo or the event. The photos are usually stored in order of events making it organized and easier for the viewer to follow or recall an event based on when it occurred....
Posted by Olga Day on
---