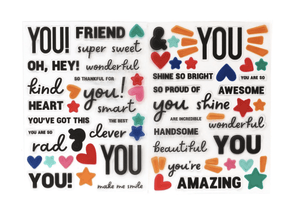 Elles Studio - Sincere Sentiments Wonderful You Acetate Stickers
$9.25

$9.25

Our acetate star stickers come on two 5 x 7 inch sheets as shown here in the photo.


These stickers are clear and see-through! You'll want to press and rub evenly (using a smooth surface or the side of your nail) to get a transparent look!
---
---
---
We Also Recommend
---
_learnq.push(['track', 'Viewed Product', item]); _learnq.push(['trackViewedItem', { Title: item.Name, ItemId: item.ProductID, Categories: item.Categories, ImageUrl: item.ImageURL, Url: item.URL, Metadata: { Brand: item.Brand, Price: item.Price, CompareAtPrice: item.CompareAtPrice } }]);