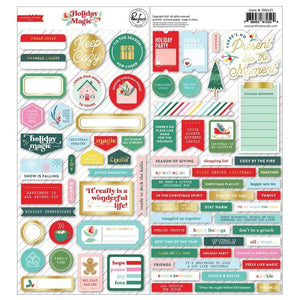 PinkFresh Cardstock Stickers Holiday Magic
$8.95

$8.95

Holiday Magic

GET READY FOR OUR MOST COLORFUL HOLIDAY COLLECTION YET! With sweet candy colors, whimsical designs and the modern typeface you've come to expect from Pinkfresh Studio, we can't wait to see the holiday magic you'll create. This collection was designed by the talented Kaitlin Sheaffer.

This collection is perfect for layouts, mini albums, pocket/notebook pages and more. it's also a perfect fit for December daily or December memories albums!
---
---
---
We Also Recommend
---
_learnq.push(['track', 'Viewed Product', item]); _learnq.push(['trackViewedItem', { Title: item.Name, ItemId: item.ProductID, Categories: item.Categories, ImageUrl: item.ImageURL, Url: item.URL, Metadata: { Brand: item.Brand, Price: item.Price, CompareAtPrice: item.CompareAtPrice } }]);